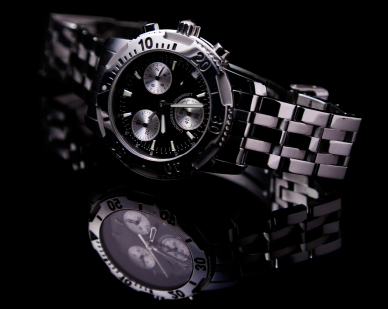 PVD [relevant-to-adsense type="start"]thin film coatings[relevant-to-adsense type="stop"] for decorative applications
Since the mid 1990s decorative PVD coatings have been established as the high quality surface finish for watches, sanitary and door hardware with many manufacturers marketing coated products with long time guarantees on their appearance.
Decorative PVD coatings are superior to traditional electroplated coatings

PVD ceramic coatings are a better to traditional electroplated coatings as they have superior hardness and wear resistance, do not discolour or tarnish, have reasonably high corrosion resistance and do not suffer under UV radiation and so for example PVD Coating wheels and PVD coated watches, in particular DLC coated black PVD watches have proved popular.
What is Black PVD Coating?
Generally it is diamond-like carbon, DLC or AlTiN.
PVD coatings are by their nature very thin and provide no levelling effect and to reduce the cost in decorative applications the PVD coating deposited is usually even thinner, typically 0.3 microns. When PVD coatings are this thin they do not act as a corrosion barrier; therefore the PVD coating is applied on top of a corrosion resistant nickel or nickel / chromium electroplated coating. The PVD coating supplies the decorative wear resistant finish.
PVD Coating Colours
PVD coatings can be deposited with a wide colour range. Metals used as target material in decorative PVD processes are zirconium, titanium, chromium, titanium-aluminum alloys and niobium. Ceramic coatings are deposited to increase the hardness of the coating. This is achieved by introducing reactive gases during the deposition process. The most widely used reactive gases for decorative coatings are nitrogen and methane or acetylene to produce metal-nitride, metal-carbide, metal-carbonitride and diamond like carbon DLC coatings. Also oxygen can be used to produce oxides, oxinitrides, etc. The decorative coatings are produced in a certain colour range, depending on the metal-to-gas ratio in the coating and the structure of the coating. Both of these factors can be altered by changing the deposition parameters.
Zirconium is the most widely used target material for decorative coatings in sanitary and door hardware and other applications such as watch cases because of the relatively wide colour range that is possible, ZrCN for example can look exactly the same as gold if the composition is correct.
The process parameters to deposit each colour are stored in software recipes with various different process steps. During the coating process all the relevant process parameters are continuously monitored and controlled by an automatic computer control system. As a result it is possible to achieve excellent coating quality reproducibility.
Computer controlled PVD coating systems offering high flexibility and reliability are available. Products made of brass, zinc and ABS will all look the same colour no matter when the coatings were deposited.
Examples of PVD coated watches for sale
More examples of PVD coated watches can be seen here.
Coating on Plastics
New manufacturing sectors are looking at PVD to improve appearance and durability. One such are is the coating of plastic products in applications where metal components were previously used. There are basically three ways to coat plastic parts; electroplating, painting and PVD coating. Electroplating typically has a thickness of around 30 µm and levels out minor surface imperfections. Electroplating is a wet, extremely environmentally unfriendly process and results in carcinogenic hexavalent Cr6+. The main disadvantage of painting is the absence of an attractive metal look. PVD is therefore, the natural choice for coating plastic as it offers a longer lifetime, metallic colours, scratch protection and is environmentally friendly.