With the advent after the mid-1970s of magnetron sputtering, controlled reactive sputter deposition and the use of controlled concurrent ion bombardment as a process parameter the applications of magnetron sputtering deposition have rapidly increased. Today applications of magnetron sputter deposition range from semiconductors, to architectural window glass for energy conservation, tool bits, plumbing fixtures for decorative purposes, to web material with transparent vapour barriers for packaging. Magnetron sputter deposition has replaced conventional [relevant-to-adsense type="start"]thin film coating[relevant-to-adsense type="stop"] methods such as electroplating and generated many new applications and markets.
PVD coatings applications – cutting tools is the leading application
Tool coatings continue to represent a significant proportion of the applications for PVD technology. However recently, the application of low friction, wear resistant PVD coatings in the area of components has expanded. Typical specific applications are fuel injection systems, roller and plain bearings for harsh environments, gears, pumps and compressors. A BMBF study published in 1996 estimated the market for wear protective coatings as 83 billion €.
PVD coatings applications – Market volume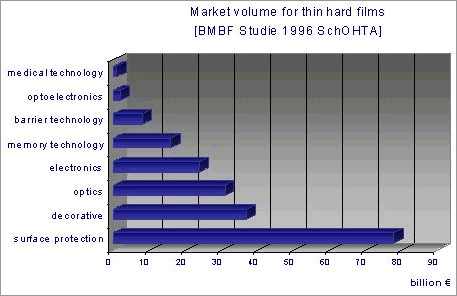 This has expanded to the point that the world-wide market for coatings produced under vacuum is estimated to be well over 200 million €. No figures are in the public domain for the component market but in 1990 it was estimated to be worth approximately 1.5 billion €. Future growth of the machine tooling market is difficult to predict but market forecasters expected a growth of at least 8%.
PVD coatings applications – Coatings on plastics now possible
There is as yet a vast untapped market for the coating of plastics even though this is now possible for industrially relevant quantities and dimensions.
Market Update
U.S. PVD Market Revenue, By Application, 2013 – 2024 (USD Million)
Source: http://www.grandviewresearch.com/industry-analysis/physical-vapor-deposition-pvd-market
A report from Grand View Research states that the global physical vapour deposition (PVD) market valued at USD 14.41 billion in 2015 is expected to grow significantly due to coated medical equipment from developing economies. PVD coatings are currently used for applications such as storage devices, semiconductors, and LED, which are expected to fuel the market growth over the next eight years.
Strict environmental legislation restricting the use of hexavalent chromium electroplating is also expected to boost the PVD coating market.